The
Original
Cheese Snack
The deliciously creamy snackable cheese wedges that started it all. Embrace life's laughable moments with a snack that does the same. Because it's better to laugh!
a deliciously creamy snack.
On-The-Go.
Creamy, dippable cheeses paired with crunchy breadsticks in a new, easy-to-carry cup. With three tasty flavors, you'll want to go more places so you can eat more.
Hummus. Cheese.
Perfectly BLENDED.
Our creamy, spreadable cheese, blended with plant-based ingredients. These new wedges are—well, perfect. Three flavors to try, three flavors to fall in love with.
Order Now For Delivery or Store Pickup!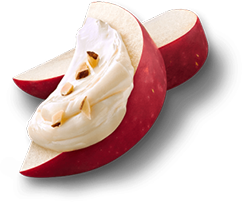 Because it's better to laugh!
Laughter does us good. What we eat should do the same. Enjoy The Laughing Cow straight from the pack, spread it, dip it, or get creative in the kitchen with these delicious snack ideas.