Fennel Apple-tizer
This quick, healthy snack is a fun new way to try out classic flavor combinations - and feel good about it!
Ingredients
2 red apples, each cut into 8 wedges
2 tbsp lemon juice
1 tsp grainy mustard
1 tsp honey
1 tsp olive oil
1/2 small bulb fennel, thinly sliced
Pinch each salt and pepper
1 tbsp fresh dill
Preparation
Preheat grill to medium; grease grate wall. Grill apple wedges, turning once, for 5 to 5 minutes or until grill-marinated; set aside. In bowl, whisk together lemon juice, mustard, honey, and olive oil; toss with fennel, salt and pepper. Spread 1/2 wedge of The Laughing Cow® Creamy Asiago variety over each wedge of grilled apple; top with fennel mixture. Garnish with dill. 
Featured Flavor: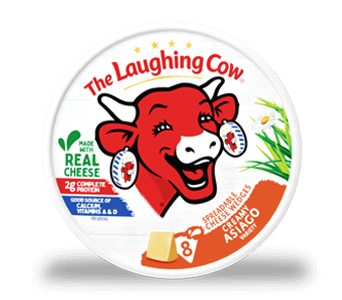 Where to Buy