Eat Your Heart Out
Tangy marinated artichokes are the perfect foil for creamy Asiago variety in this quick and easy snack. 
Ingredients
2 pita breads, each cut into 8 triangles
4 marinated artichokes, drained and quartered
Preparation
Preheat oven to 400°F. Place pita triangles directly on rack in oven; bake for 2 to 3 minutes or until warm. Spread 1/2 wedge of The Laughing Cow® Creamy Asiago variety over each pita triangle; top with artichoke quarter.  Tip: Replace the marinated artichokes with any other marinated vegetable, such as mushrooms or peppers if desired. 
Featured Flavor: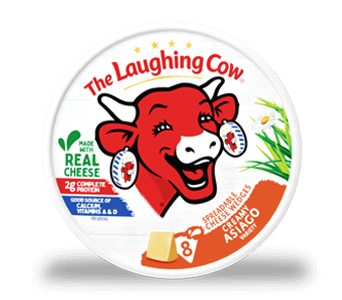 Where to Buy