Pocket-Size Cheese Board Crostini
This quick, sweet and savory snack is an easy way to combine all the flavors and fun of a cheese board, in just one bite. 
Ingredients
16 slices baguette (about 1/4-inch thick slices)
1 tbsp olive oil, divided
1/2 cup baby arugula
16 red grapes, halved
3 tbsp chopped toasted walnuts
1 tsp pepper
Preparation
Preheat oven to 375°F. Arrange baguette slices in single layer on parchment paper-lined baking sheet; brush with 2 tsp olive oil. Bake for 4 to 5 minutes or until golden and crisp; let cool slightly. Spread 1/2 wedge of The Laughing Cow® Creamy Original Cheese over each baguette slice. Top with arugula and 2 grape halves; sprinkle with walnuts. Drizzle with remaining olive oil and sprinkle with pepper. 
Featured Flavor: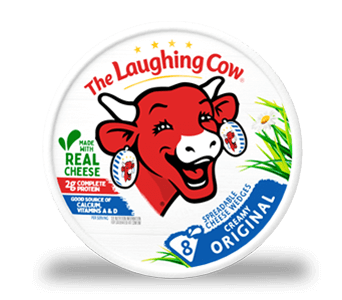 Where to Buy